fortunately I never have had to go for long periods of time without satisfying my cravings... for coconut cake. Soon after I moved into the neighborhood of my previous home, the drugstore lunch counter was converted into a full on restaurant. At first I thought -what sad news. The lunch counters are going-if not already gone, and losing the Hayes Barton one- just devastating. I quickly found out the neighborhood traded up up up! read a review
here
The new proprietors, a husband and wife team- have created something unique to Raleigh and it doesn't hurt the cuisine is outstanding- and THE coconut cake is otherworldly. Honestly-I kid you not. Marget, the owner, is baker extraordinaire at The Hayes Barton Cafe & Dessertery
here
some of Marget's masterpieces can be seen
here
, like a piece of THE coconut cake served only as what I would call unartfully a "slab"

the Five Points area of Hayes Barton
Raleigh NC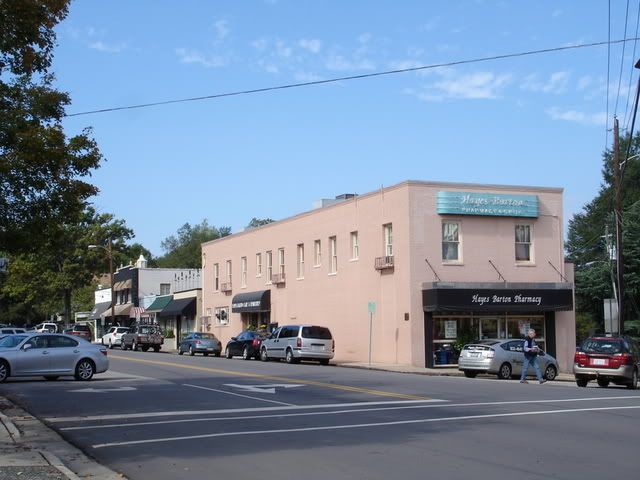 shops line both sides of this street, antiques, flowers, more food and the post office
looking right-My old house would be just across the street from the restaurant
my house just a crossing of the street away from the coconut cake
since moving away-I have not found another coconut cake, but tomorrow is another day.
find out more about the Five Points neighborhood
here
unfortunately I am not receiving any coconut cake in exchange for this post.
.
.