.
image from
here
(asshole.org)
Celebrating 100 years this year of Paul Bowles life.
easy to celebrate and impossible to cover & besides,
there is an entire site devoted to referencing and reverencing him and his work.
When speaking with interviewer Daniel Halpren- Bowles declared 'the first draft is the final draft.' He followed this linear path thorough out his unquantifiable life.
Jane and Paul Bowles photographed by Cecil Beaton
This from his haunting novel
Sheltering Sky
: "Death is always on the way, but the fact that you don't know when it will arrive seems to take away from the finiteness of life. It's that terrible precision that we hate so much. But because we don't know, we get to think of life as an inexhaustible well. Yet everything happens a certain number of times, and a very small number, really. How many more times will you remember a certain afternoon of your childhood, some afternoon that's so deeply a part of your being that you can't even conceive of your life without it? Perhaps four or five times more. Perhaps not even. How many more times will you watch the full moon rise? Perhaps twenty. And yet it all seems limitless."
movies, manuscripts, their lives and love for each other endured turbulence, liaisons, Jane's death.
Bowles said the day his wife Jane died- "all the fun was over."
Luring many acolytes Bowles to Tangier- he was a connoisseur of people.Something Paul knew about-he called himself a "connoisseur of odors. He was the "scent" that drew and scent is powerful. It lures. Something Paul knew about-he said he collected incense and perfume. I imagine him as drawing people to him, collecting them just as he did his strange perfumes, incense, teas. He "had 28 kinds of incense and knew them all blindfolded raw or burning. Then I mixed them and got some interesting results." He remembered a tea oil that he found one year. "One drop on a cigarette end and the whole house smelled of fresh hot tea. Very strong. Marvelous odor. Like mint Tea. I never found any again. The next year I came back looking for it all through the perfume soukhs of Fez and Marrakech. Never found any more. I smelled hundreds of bottles and they would say, this is it. But No."
Henry Ossawa Tanner.Street in Tangier, 1912.
Smithsonian American Art Museum, Washington, D.C.
Paul Bowles never found that special tea oil again. It forever eluded him, but he never forgot it permeating scent.
Something very much like a Love that is Lost, Remembered for moment in perfect clarity, but never Regained, nor Forgotten.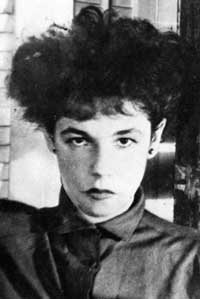 Jane Sydney Auer
He must have felt this strong marvelous odor much like he thought of Jane- never again.
Resources-
a terrific site asshole
here
with interviews
an interview
here
written by Daniel Halpern
other resources-
Conversations with Paul Bowles
,Paul Bowles and
Gena Dagel Caponi
In Touch:The Letters of Paul Bowles, Paul Bowles, with Jeffrey Miller
( "the Cherifa Plant" is a plant Cherifa-Jane's Bowles Moroccan housekeeper and lover used-Bowles believed Cherifa used to control Jane.)
read them
.