.
The Garden Room of Mrs. Stanley Dollar decorated by Michael Taylor
Michael Taylor found the naturalistic white metal banquette and pouf for this room at Frederick P. Victoria & Son- along with other pieces for the Garden Room. Four full scale metal trees- 3 made by Jansen- were added to the room- Victoria making the fourth. Elsie de Wolfe had purchased the forest from Jansen for her 1938 Circus Ball held at her Villa Trianon at Versailles. Both the designer and the client were enchanted by the idea of pulling the white trees into the room -setting the magic that their towering presence must have made.
some things-I never forget.
a room so exquisite, so beautiful- You see it. You don't forget. Many things you do.This you don't.
Design stagnates, it lags.
Some designers are good, some are very good- some are excruciatingly great.
Michael Taylor was.
He was- one of those great designers that could create a uniquely beautiful room-an unforgettable one. He knew where design originated, where it had been. This was just one of the small-but crucial elements that gave him that edge-that would give anyone an edge.
Yes, his clients were rich, but they recognized a spark- a brilliant spark.
This one was that brilliant spark- One we never should forget. This room was too- it was his.
He made magic.
and it's not easy to make, ask her.
before I read the charming words of Hamish Bowles-another magic maker-
I spotted
Magic.
Hamish Bowles from a Lunch Celebrating...
here
Chilled pea soup was served in little ramekins in the conservatory. It matched perfectly the moss-green cushions on the Jansen banquettes (you will remember these from Elsie de Wolfe's Circus Ball), and indeed the bright green moss bedding out the exuberant potted succulents. That is the fastidious attention to detail of the Trevor Trainas for you.
The conservatory of Trevor and Alexis Traina
The home of the Triana's has been decorated with the assistance of Alexis Triana's godfather, Thomas Britt, and family friend Ann Getty. Ann Getty has added these special seating pieces to her ANN GETTY HOUSE collection. I love the little benches.
seating by Ann Getty House
here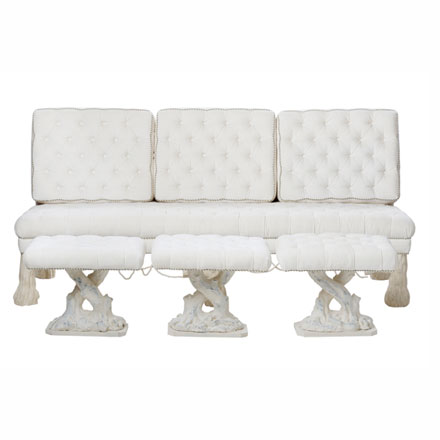 Yes! of course-all inspired by Michael Taylor.
the pillows-Michael Taylor.
the apple green- Michael Taylor
and the settees-Michael Taylor.
and the Magic- it reflects design history, but it's fresh.
when the clients do the homework- it has to be unforgettable.
in green below- excerpts from Hamish Bowle's Ode to Love in
Vogue here
The Trainas also looked to some iconic tastemaking neighbors for inspiration. It is an impressive roster. There is madcap Dodie Rosenkranz, whose villa was decorated by Michael Taylor in a style that Britt characterizes as "palace in Calcutta."
Trevor in turn applauds his wife's "fabulous and whimsical eye," informed by legendary decorators including Tony Duquette, Michael Taylor, and Thomas Britt.
Trevor's childhood homes were concocted by his vivacious mother, Dede Wilsey, in collaboration with the innovative Michael Taylor—dramatically pretty backdrops for dramatically pretty Impressionists.
another
Taylor
post-and the Dollar rooms happen to be my favorite of all the designer -
here.
another Frederick P. Victoria story
here
more LINKS-
Ode to Joy by Hamish Bowles at Vogue.com
here
San Francisco Luxury Living. com
here
Ann Getty House
here
Frederick P. Victoria and Son
here
.